8 Techniques For Simple Inventions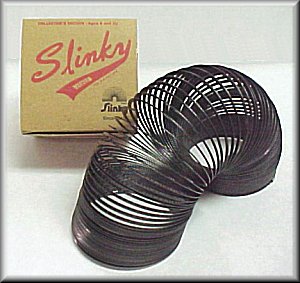 Slinky: It's just a large spring right?
Simple inventions are many times the best inventions. Think of the hoola hoop, the pet rock, the slinky and play dough. All of these ideas brought joy to millions of people around the world. One thing these products had in common is that they are uncomplicated and simple. I don't think you need a PhD to create a plastic hoop that twirls around.

Anyone can create simple product inventions. It is a matter of observing a problem and then solving it. There are several techniques that can help with this process. There is no magic bullet but if you apply yourself you will be surprised at what you can accomplish.
Always carry a note pad ~ you do not ever know when lighting will strike and the best idea you ever had will appear in your head. Always be ready to write it down.

Define the problem ~ you cannot hit a moving target. Write out in one sentence what you are trying to do. How do I create a ....

Focus on a specific area or niche ~ too much freedom inhibits creativity.

Brainstorm ~ this can be done alone or in a group.

Solve interesting problems ~ it is easiest to work on simple inventions that are interesting to you.

Study solutions to similar problems ~

Daydream

Exercise your brain ~ read as many books as you can about varied subject matter. Have conversations with smart people.

Do these tips sound too simple? Well maybe they are but we are not talking about building the space shuttle. We are discussing simple ideas. Products that anyone can think of if they put their mind to it.

Return to New Invention Ideas from Simple Inventions
Return to Home Page from Simple Inventions