File A Patent Application To Secure Protection For Your Idea
A patent application can come in two types and every inventor should know the difference to protect themselves and their idea. The two types include applications for both provisional and utility patents. The difference between a provisional patent and a utility patent is significant and needs to be understood.

A provisional patent is in many ways a pre patent. It does offer your invention "patent pending" status and it also records your idea at the US patent office. There are very few situations where I would not recommend getting a provisional patent before a utility patent.
Filing a provisional patent is very inexpensive, as little as $105 if you do it yourself, and offers protection while you are evaluating the potential of your idea. This is a great way to minimize your risk on an unproven product concept.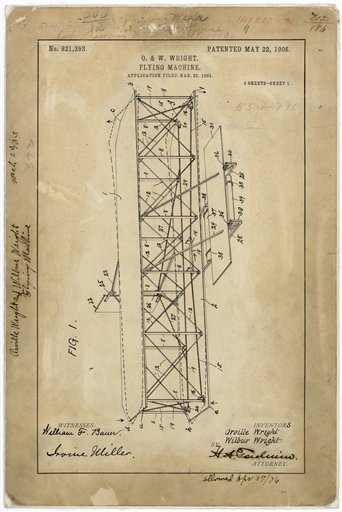 The Patent Application For the Wright Flyer ~ 1906
A utility patent is very different in the eyes of the US patent office. This is a full blown patent that will protect an idea based on how it works. The cost is much more substantial but a utility patent has enforceable rights that do not exist with a provisional patent. If someone infringes on a claim in your utility patent you have the right to seek damages or ask the infringer to cease and desist with the use of your invention.

The actual filing of an application can be done by an individual but I always recommend that you engage a professional to do this for you. You can use either a patent attorney or a patent agent for this procedure. When I write a patent myself I will still use a professional to file the application. There are many elements that need to be submitted properly in order to secure your patent successfully so ask a professional to assist you.

Return to How To Get A Patent from Patent Application
Return to Home Page from Patent Application