Inventors Digest. The Best Magazine For Inventors?
Inventors Digest is the oldest and most respected inventors magazine in the US. For over 24 years this magazine has been covering every facet of inventing from patents to selling your product to retail. I recommend it for the great articles and the monthly inspiration it offers.
Many of the articles feature success stories about everyday people and how they succeeded with their invention idea. One of these success stories was about Saul Palder in the July 2005 edition of Inventors Digest. Saul had inventor the Smart Spin, the plastic food storage container system that spins and fits neatly into a cabinet.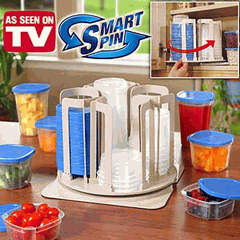 This product eventually sold over 8 million pieces through infomercials, home shopping channels, catalogs and retail. The Smart Spin was truly an unqualified success. The article discussed not only about the process Saul took to become successful (and to make a lot of money by the way), but also about his story and plans for the future.

A year or so after the article was featured I was able to meet Saul. He was speaking at my local inventors club at the special request of our club president. He happened to be visiting his daughter at the time. His talk was one that I thoroughly enjoyed because he spoke from the position of experience. Experience that was earned through trial and error.

Much of his talk centered around the many product ideas that he had that were not successful. Very few people get it right the first time. He ended with an important message that I will not soon forget. He said to never ever give up on your ideas. Once you find the right one it can make you a lot of money. Thanks Saul for the inspiration.

Return to Invention Help from Inventors Digest
Return to Home Page from Inventors Digest