The Curve Smart Phone
by Margarita Moore
(Cincinnati, Ohio)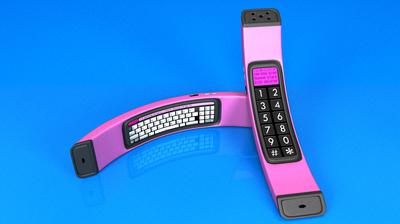 The Curve smart phone
Inventor Profile

We depend on our smart phones for searching the Internet, emailing, and texting as well as talking. Too often, we cannot make necessary phone calls because the battery on our phone has died.

When traveling, we must remember to carry a re-charger for our phone, so we do not lose our only means for communicating with others. Also, all smart phones resemble each other, with no creative shapes or styling.

They may be available in different sizes, but they all have the same utilitarian design. Being a creative thinker, Margarita Moore has designed a versatile new smart phone that will be more fun to use because of its unique shape, and it can be charged while on the go.

Ms. Moore has teamed up for the development of this project with Idea Design Studio, and together they have used their collaborative experience to transform this idea into a marketable platform.

The inventor passionately feels a sense of pride about this concept and believes that it deserves immediate attention. Because of the great market that exists for such a concept, she wholeheartedly believes in the positive impact its development and production will have on individuals and the market(s) to which it will be promoted.

What is the Concept?

The name of the concept the inventor has chosen is The Curve Phone, although she is open to the possibility of a name change and reserves final approval regarding the official name.

Branding is important, of course, but the concept is the official foundation for the invention and any forthcoming applications of the invention.

The concept Ms. Moore has envisioned is a curved smart phone, which is small enough to be carried conveniently in a purse, pocket or attached to a belt. It will have the same technological features we expect from the latest mobile devices, packaged in a fun, retro-shaped form.

These phones also have solar panels, so users will never be caught by a dead phone battery. A further, more detailed explanation of the functionality of this invention will be elaborated upon in the following segment.

How Does it Work?

Ms. Moore has been designing and documenting this concept for quite some time. She has several "mock-up" drawings of the invention, which have provided the inventor with a sense of how the concept will appear once brought into production.

This is beneficial for making any necessary modifications and revisions for improvements; thus promoting a more satisfactory and overall accommodating product.

As currently designed in the technical drawings and 3-D models, the invention has unique features not presently available in the marketplace. Although the system has not yet been engineered and is still in the 3-D developmental stages, an explanation of possible functionality is as follows:

The Curve Phone is a unique cellular phone that will become very popular with millions of consumers worldwide. This phone combines the up-to-date functionality of the latest models with the retro-styling of old-fashioned phones.

It has an LCD touch screen and other features, including live video, a camcorder feature, crystal clear picture taking capability with a built-in flash, a high battery capacity, blue tooth connectivity, ability to connect wirelessly to printers, ability to send and receive pictures, finger-print security, GPS, radio music player, an LED light that blinks to notify the user of an incoming call, linkage to weather programs, an alarm system, resistance to cold weather and moisture, built in Wi-Fi, HD for watching movies and videos, split screen for doing multiple tasks, and text messaging and speaker phone capabilities.

This phone will not break as easily, as it has a self-healing material on the screen to protect it from scratches and cracks, and the body is made of durable, yet flexible, material. While most people rely on their cell phones, this phone can connect and be used with a land line when the need arises.

There is a sliding door protecting the port used to connect to a land line, and the functionality will change automatically from a cell phone to a land line phone, which may be less expensive to use when making long-distance calls and for providing other services.

The top portion is a solar panel, which absorbs sunlight or any UV light to power the battery when sunlight is not available. It can also be charged using a standard wall charger. It may be slightly larger to accommodate the technology for all these features, but it is still small enough to fit inside a small purse or a person's pocket.

This phone can be available in different sizes, various widths and lengths, all with the same body style. It will also be available in various colors to appeal to men and women of all ages.

What Problem(s) Does it Solve?

The unique features of this invention will provide the following benefits for consumers everywhere:

A versatile new cell phone with retro styling that can be used as a mobile device or a handset for a land line.

Will save users money as this phone is not fragile, and will not break or be damaged easily
A dependable phone that provides a strong signal with fewer dropped calls.

Will be very convenient to use and to carry while on the go, as it can be recharged using sunlight or another source of UV light when there no sunshine.

Possible Material(s) for Construction
The cost of materials and actual materials used will depend on the quantity manufactured and the buyer/licensee of this idea.

An introductory retail price and sustaining price will be determined by the quantity manufactured, the actual cost of manufacturing, advertising methods used, and packaging materials employed by the buyer/licensee.

The inventor understands that company feedback, especially from knowledgeable sources, is a great way to improve the product for future market potential.

Marketing

Ms. Moore envisions her product appealing to the multitudes of consumers who are bored with the uninspired design of conventional smart phones. Today's society values creativity, and this is precisely why this product is being developed. This unique phone, with its retro styling and advanced features, could soon become the world's most popular phone.

The markets are extensive for an innovative product like The Curve Phone, as consumers worldwide will appreciate the benefits and convenience of using this product.

This product will be available from companies providing cell phone services, including T-Mobile, AT&T, and Verizon, as well as retailers, like Apple, Best Buy and Wal-Mart, where various kinds of phones are purchased.

It will be available in at least 150,000 retail stores in the USA and internationally. The Internet provides an additional important platform for the advertising and marketing of this innovative product with many retail sites as well as sites for informative videos.

Ms. Moore wishes to leave the market open for subsequent variances and possibilities that could improve the feasibility and marketability of this product.