SAFETY TALL BIKE
by JAMES
(BUFFALO NY)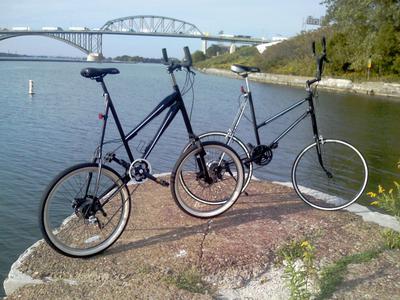 Safety Tall Bike
THIS SAFETY TALL BIKE IS STRONGER AND HAS BETTER BALANCE, AND IS SAFER THEN OTHER TALL BIKES, AS THERE IS LESS TUBING BETWEEN THE RIDER'S LEG'S(HENCE STEP THROUGH DESIGN)MAKING DISMOUNTING IN A HURRY EASILY ACCOMPLISHED, WHICH IS A SAFETY ISSUE WITH OTHER TALL BIKES.

TALL BIKE RIDER'S NOTE THAT BOTH THEIR INCREASED VISIBILITY GIVE THEM A SAFETY ADVANTAGE IN TRAFFIC OVER SHORT BIKES. THERE IS A SIMPLE WOW FACTOR WHEN RIDING THIS SAFETY TALL BIKE, YOU WANT TO RIDE LONGER AND FURTHER. THIS WILL IN TURN CAUSE YOU TO EXERCISE MORE.

IF YOU RIDE IT TO WORK YOU WILL LEAVE HOME EARLY SO YOU CAN RIDE AROUND THE BLOCK BEFORE GOING IN TO WORK.

YOUNG KID'S THAT HAVE SEEN THIS BIKE CAN'T WAIT TO GROW UP TO RIDE THIS BIKE AND THE RIDE IS AWESOME.

THE SAFETY TALL BIKE SEAT HEIGHT IS 44"-55" HIGH. THE HANDLE BAR HEIGHT IS 50"-60" HIGH. THESE BIKES CAN BE BUILT USING TODAY'S TECHNOLOGY AND BIKE BUILDING MATERIALS.

MANUFACTURES WOULD ONLY HAVE TO MAKE A FEW CHANGES TO MOST OF THERE EXISTING MODELS TO BUILD THESE BIKES.