Removable Fishing Rod Float
by Dmitrii Semakov
(Russia, St.-Petersburg)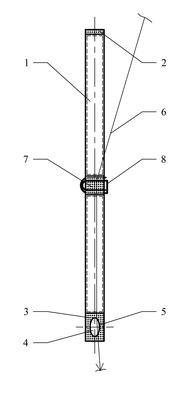 Fishing Rod Float Closed
Float for a fishing rod which can be dressed on a fishing line, to remove and change, without cutting a fishing line and without untying other fishing adaptations.


There are many fishermen who don't have a large number of different fishing adaptations - they have a fishing rod or a spinning rod - but they use them for various methods of fishing.
In this case often there is a need quickly to attach a float, to remove it or to change it out for another - especially if in one case it is necessary to use a float of a set depth, and in other case as "the sliding".
In this case, all these actions demand the fisherman to cut a fishing line and to remove from it other fishing adaptations (a hook, a sinker, etc.).
The idea of my invention consists in thinking up a design of a float which will be simple and have a low cost of production, but thus it can be used and as the float regulated on depth and as the "the sliding" float, and thus, a float it is possible to attach to a fishing line and to remove from a fishing line, without cutting it and without removing from a fishing line other fishing adaptations.
This float is especially useful when the fishing rod is folded. When it is folded it takes up very little space!!!
At the moment, pending utility model in the Russian Federation (№2015101629).
Also filed an pending for an invention in the Russian Federation (№2015101637).
There is an opportunity for the international patenting (till January 2016).
More detailed information can be see: http://tfinb.com/260.htm