Litter Getter
by Jamey Whitman
(Auburndale Florida United States)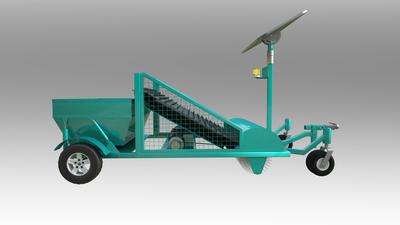 My roadside litter machine/beach cleaner machine invention is a 24 volt solar batteried backed by solar panel litter collecting machine.

It is equipped with A 2" ball hitch receiver so that a variety of types of transportation can tow it along with operate machines.

Machines have a self-leveling system to control the height of the round cylinder tine retrieval drum, stepped conveyor that's transports the litter into hopper that is 10 cubic yards in diameter and can lift 9ft for accommodating being able to dump over the side of a dump truck.

Machines have a photo eye that senses when hopper is full triggering a flashing light to get operators attention that hopper is full and needs emptying. Machines have two speed control knobs to control retrieval tine drum cylinder and stepped conveyor belt able to vary speeds if need to from 1-10mph.

Machines are not designed to operate over 10 mph under litter collection operation. Machines will cover on average of 56 miles per day in an 8-hour workday. Machines have nearly unlimited run time.

Machines are designed to collect normal everyday roadside litter such as cigarette butts, bottle caps, broken glass, nails, clothing, paper, cans/plastic bottles, glass bottles, dead animals, diapers and the like.

Machines are ideal for roadsides, perfect for parks and other public areas, great for outdoor sporting events, amusement parks, and zoos.