HIGH-EFFICIENCY RODLESS GEAR CONVERTER OF RECIPROCATION INTO ROTATION AND VICE VERSA
by Inventor
(Russia)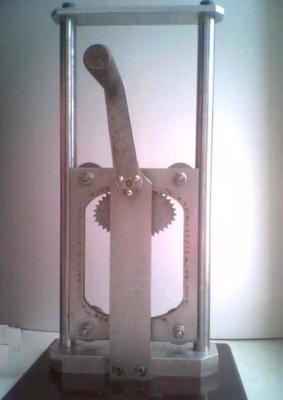 The basic application of the invention: in various mechanisms and engines where reciprocal motion is converted into rotary, instead of the crank mechanism.


Technical advantages of the invention in comparison with the widely used slider crank mechanism:
- High transformation efficiency of reciprocal motion into shaft rotation (up to 50% more efficient than crank mechanism)
- Ability to use one mechanism at once for working with two opposite set pistons (for two cylinders) in piston engines of internal combustion.
- Ability to work with both linear reciprocal motion, and with nonlinear motion.
- Simplicity of design, only 4 working elements.
The principle of the invention is based on the use of non-linear (non-circular) forms of interacting working elements of the converter. The nonlinear characteristics of their interaction achieve:
- High efficiency conversion types of motion.
- Uninterrupted interaction of the working elements of the invention.
- Synchronization of their motion throughout the cycle, including maintenance of gearing in each phase of the motion.
For more info visit invention website http://www.topnew.narod.ru/index_e.htm
E-mail: techs@front.ru