Hard-shell luggage with integrated divisible backpack
by Xavier Boegly
(Bangkok, Thailand)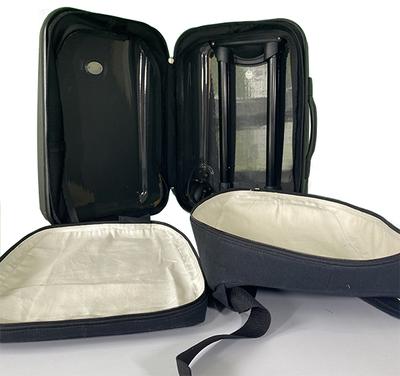 Hard-shell luggage with integrated divisible backpack
This product provides a 2-in-1 solution to travelers, offering a hard shell luggage, and including a well-designed integrated backpack for daily commutes.

Introduction

Nowadays, when flying across the world, travellers enjoy using hard shell luggages for two main reasons:

- Better protection of their belongings in aircrafts

- Easy to carry around in airports and train stations.

The problem

When arriving at destination, travelers rarely use these hard shell luggage's to commute within cities for business meetings or holiday trips because there are inconvenient and nonpractical for daily usage. For these activities, a backpack is definitely more appropriate.

The solution

A hard shell luggage with an integrated backpack offering convenience to travelers. The backpack is divisible in two and zipped in the inner parts of the luggage. It replaces the usual fabric that covers the inside of the luggage.
Join in and write your own page! It's easy to do. How? Simply click here to return to Invention Websites.