Flush Away Pottie
by Bruce J McNamee
(Delran, NJ USA)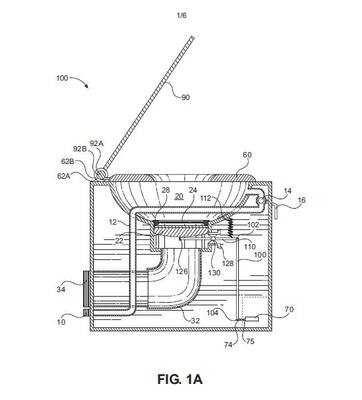 Set up with pedal flush and handle for water
A camping pottie that will be as easy, and convenient as using your bathroom at home.

You will no longer have to take apart your pottie and take waste to the campground dump station (the waste will go right into the campground septic system) or fill up the fresh water reservoir.

Flush Away Pottie™

The Flush Away Pottie™ is the only portable camping potty that connects directly to a camping sites septic system. All other systems on the market contain a reservoir to store the human waste. Once filled the tank must be removed from the base and hauled to a dump station. The Flush Away does not require the user to take apart or haul away. All waste is disposed of directly into the septic system immediately after use..

 The Flush Away Pottie™ is easy to set up for use. The user simply connects the 2 hoses (one to fresh water and the other to the sites septic system)  and it is ready. It is portable 16" x 16" and stores easily.

Privacy Tent

The privacy tent is specially designed to contain the Flush Away Pottie to support and contain the hoses and provide a secure privacy area for the user.

Drain Hose

The drain hose drains the waste to the campground septic system.

Drain Hose Storage Tube

The drain hose storage tube stores your drain hose safely to protect it from damage.

Water Hose

The water hose connects to supply fresh water from the campground system

Camp Eaze™ is in the design process of accouterments to complement the Flush Away Pottie™ experience.
Join in and write your own page! It's easy to do. How? Simply click here to return to Invention Websites.