Clock push up
by Mihail Mihaylov
(Stoke on Trent, Staffordshire,UK)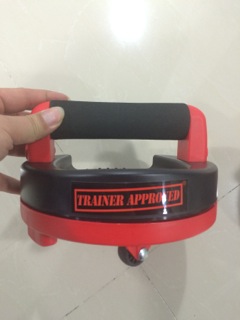 Clock Push Up
The Perfect Circle


PERFECT CIRCLE CLOCK PUSH UP - CIRCULAR ORBIT METHOD
The Perfect Circle Clock push up design uses the foundation concepts of Aikido and Thai Chi techniques. Their principles apply not only for martial arts or general fitness but fit very well with the modern astronomical theories.
UNIVERSAL ORBITAL PRINCIPLE
Like the rhythms and movements of the universe, all bodies follow a circular path. The celestial bodies traveling along their orbits, while rotating upon their axes. Hence the model of the functioning universe is circular and dynamic.
Here it becomes necessary to draw a bit of an analogy with our solar system to clarify these ideas. In our solar system, the earth revolves around the sun, the moon around the earth, and the earth along its own axis.
THE HUMAN UNIVERSE
THE HUMAN BODY IS A REFLECTION OF THE UNIVERSE FOLLOWING ANALOGOUS CIRCULAR RHYTHMS. JUST AS PLANETS REVOLVE UPON THEIR AXES, THE HUMAN BODY IS ITS OWN 'SOLAR SYSTEM' WITH VARIOUS BODY SEGMENTS ORBITING ONE ANOTHER AND ROTATING UPON THEIR GIVEN AXES.
IN A PERFECT CIRCLE CLOCK PUSH UP SYSTEM, THE EXERCISER REVOLVES IN ORBIT AND ALONG ITS OWN AXIS EXACT AT THE SAME WAY AS THE EARTH REVOLVES AROUND THE SUN AND ALONG ITS OWN AXIS. IT USES ONLY THE MOST BASIC OF UNIVERSE AND HUMAN MOVEMENT.
The body segments and pivot points are determined by human joint structure. The visible movements produced by the body clearly follow an orbital path. In all joints, there are at least two separate bones articulating.
WITH 206 LARGE AND SMALL BONES IN THE HUMAN BODY, EACH JOINT CAN PERFORM A VARIETY OF CIRCULAR PATTERNS. IMAGINE THE COMPLEX MOTIONS THAT MAY RESULT BY COMBINING ALL THE JOINTS IN THEIR CIRCULAR SYSTEMS TOGETHER!
Failing to recognize and understand the fundamental movement principles of the body, one's potential development in the martial arts or any physical endeavor will be severely limited.
References; https://www.youtube.com/watch?v=j6lCU8ejb4Q
http://innovative-fitness-solutions.com
The basic Clock push up movements interacting, opposing, and influencing each other. They are used to balance all muscle parts which are ignored by many sports and fighting techniques. That led to a unique perspective on human health and development, proven for thousands of years.
The Perfect Circle Clock push up system- no more weak links.
A body is a chain. A chain is no stronger than its weakest link. No matter how strong your other muscle parts are -the weakest link in the chain is also the strongest. It can break the chain.
This means any workout which don't target all muscles parts equally is vulnerable because the weakest part can always damage or break it.
Most people work their lower pecs way too much. And almost everyone works their lower chest more than their upper chest. This is especially true for regular push ups.
Only with the Clock push up you can equally work all the muscle parts in all angles and direction in a perfect symmetry. In one turn only, without to change the hand position during the repetitions.
The basic product movements interacting, opposing, and influencing each other. They are used to balance the all muscle parts equally which are ignored by many sports and fighting techniques.
As a result you'll get a perfectly developed proportional muscles with no weak links.
Benefits
JUST SOME OF THE MANY BENEFITS SUMMARIZED:
Perfect muscles proportionals
Equally developed muscle parts
Improved body control, strength and stability
Improved balance and posture
Improved flexibility
Stronger immune system
Lowers blood pressure
Improved mindfulness, focus and balanced emotions
Increased energy levels
Concentration
Basics are easy to learn
Deep self-awareness
People of any age and any ability can take part
General well being and fitness
The Last Generation of Push up – the Perfect Circle Clock Push ups
Push-ups are one of the oldest and most widely known strength exercises on Earth. They've been a staple in military fitness, martial arts and just about every other type of exercise program that's ever existed.
Your lats, traps and abs must stabilize your pushing muscles, while your lower back, legs and glutes need to stay engaged to keep your hips from sagging or picking up too high. Like many calisthenics exercises, Clock push-ups teach your muscles to work in harmony with one another.
Long-term practice of the Circular Orbit Exercises has a positive effect on all systems in the body, promoting optimal growth, development and vitality.
When you're doing circle push ups, there's a ton of other muscles that are working to stabilize your body and keep it in a good posture. The more muscles one exercise works, the better the muscle-building signal. Here's some of the muscles that the circle push ups work:
chest
deltoids
traps
lats
abs
Only the Perfect Circle Clock push up can works equally in the upper, lower, inner and outer part of your chest muscles in one turn only.
In one workout in a perfect symmetry.
Like no other push up item does.
FAQ's
Q: What is the weight limit on the Perfect Circle?
A: Max capacity is 300 pounds.
Q: Are there any restrictions to using the Perfect Circle?
A: People with any health issues, pregnant or taking medication that effects heart rate must consult a physician. It is best to get physicians approval for anyone starting any exercise regimen.
Q: How do I use the Perfect Circle?
A: An instructional DVD is included with your purchase and will explain the use of the items. Always remember to exercise within your body's comfort zone.
Q: Is this workout only for athletes?
A: No, it is for anyone but please follow instructions carefully.
Q: Can I use resistance bands to get more resistance on exercises?
A: No, Only use the rollers as directed in the instructional DVD and manual.
Q: How do I release the handle?
A: Push red button on handle up to release handle.
Q: When do I know handle is attached to the unit?
A: Press handle until you hear a click and push red button down to secure into the locked position.
Q: Can I use both Perfect Circles at the same time on my feet?
A: Yes, you can, but only when sitting on stable chair
Q: How much does one unit weigh?
A: Two unit weighs approximately 1.250 kg
Q: How do I clean the?
A: A vacuum or damp cloth can be used to remove any dust that accumulates. Do not submerge in water or use any harsh chemicals on the item.
Q: How long is the warrantee for the Perfect Circle?
A: One year
Q: What should I do if I hurt myself using the Perfect Circle?
A: Stop immediately and consult with a physician.
Clock push up Perfect circle workout variation for offices, females over 40,children,rehab, elderly or immovable people
The main purpose on this unique design is to be user friendly so the average person would use these product and make people's life easier. Please, see the link below;
http://youtu.be/QsblvU8MAkE
This fitness devices are easy to use at home. This can even be suitable to be used in hotel rooms, general fitness, females and seniors as they are also ideal for workplace and office settings because the movements can be done at a desk.
Success Story
"All I did was keep the Perfect Circle under my desk at work and follow the super easy food plan and bye, bye 40 Lbs." Nirva, Los Angeles, CA. /reference /; Johnny Jazz Nalbandian III CEO, MasterTrainer & Spokesperson ,Email- Johnny@TrainerApproved.com Phone-(818)355-9619