C.C Therepuedic Heating Belt
by crystal nelson
(.DC)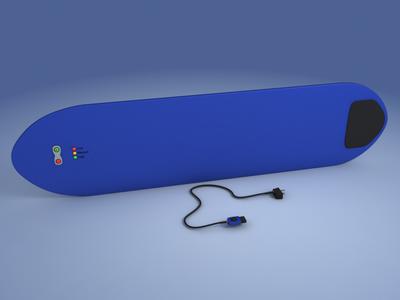 Therepuedic Heating Belt
The concept Ms. Nelson has envisioned is a portable, re-chargeable, re-usable, heating belt that can be worn around a person's waist to ease back pain.

It can be worn under or over clothing, to provide needed comfort for all those who need the relief of an electric heating pad but are unable to stay home where their heating pads can be plugged in.

The Therapeutic Heating Belt is designed to provide relief for the multitudes of people who suffer back pain and cannot stay home where they have access to electric heating pads.

This belt is lightweight, portable, rechargeable, and reusable. Power for the rechargeable batteries is provided through the use of its detachable USB cord. The belt is waterproof and wide enough to cover a person's waist and the lower back region.

It is secured around the waist with a Velcro patch, and the power controls, with settings for low, medium, and high heat, are on the front, where they are readily accessible when wearing the belt.

This product will be available in several different sizes, to fit men and women of all ages. It will also be available in a variety of colors to appeal to consumers.

Join in and write your own page! It's easy to do. How? Simply click here to return to Invention Websites.