Beer Rubbers
by Paul Martin
(Peoria Il)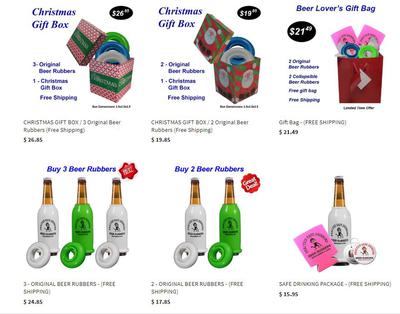 Beer Rubber
You'll be interested to know that the next wave of beer koozie innovation has arrived – finally, right?!


Long gone are the days of cheap foam and poorly printed sports teams logos and marketing catchphrases. A new epoch of beer consumption is upon us and is being ushered in by Beer Rubbers®.
Beer Rubbers are reminiscent of, but completely different than the huggies of old. Though our name derives from the old rubber foam based beer jackets, I can assure you that our product is completely different. We offer a new style of bottle apparel, one designed from the tip down to fit industry standard beer bottles while delivering a powerful marketing message: "Practice Safe Drinking®".
The Beer Rubber Team has created and brought the following awesome product to market. The product is a unique Koozie that rolls down and up a bottle of beer.
The product is compact and durable, fits in your pocket and dishwasher safe. It is also printable and makes a great marketing tool for all types of events.
The term "Beer Rubbers." has been around for a while. Legend has it that my brother was the first to coin the name. Regardless of the origin name, "Beer Rubbers.," captures the essence of the tool I have created, something "koozie" or "huggie" fall distinctly short of.
Apart from providing a strong grip and keeping your warm hand off your beer, the term " Beer Rubbers." serves as a reminder to " Practice Safe Drinking" or as we all should do, "Drink Responsibly"
According to many of the current Beer Rubber patrons, the Beer Rubber is also the only "Reusable Rubber" in the market today. Additionally, the majority of my Catholic friends consider it to be the only "Catholic Approve Rubber" in the market today, even though it is not Vatican approved yet!
The product has been marketed, manufactured and tested.
1)Patent pending, multiple submissions to US patent office (Additional
submission required)
2)Own multiple URLs associated with product
beerrubber.com, beerrubbers.com, beerrubber.net, beerrubbers.net
3)Own Multiple trademarks
"Beer Rubbers®." (Unique Brand Identity)
"Practice Safe Drinking®" (Aligns well with alcohol industry)
4)Test Marketed with in US
5)Manufactured in China (Have 9 core compression mold at Manufacturing in China)
6)Inventory on hand
7)Sales within US
I would like to sell/licenses the product, review at beerrubbers.com.
Thank you,
The Beer Rubber Team