A/R Screen
by Terrell Allgood
(Lawrenceville, Georgia, US)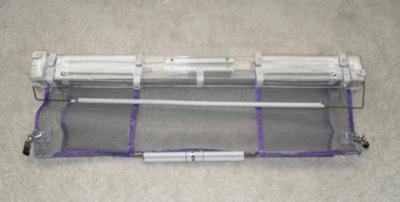 A/R Screen
The A/R Screen is a window screen which encases three separate but connecting casing's which are attached to one another. Each holds three separate screens and act as one window screen that is retractable, adjustable, and mobile to and for most modern day residential window's.

Of the three casings, the two outside casings being the same size fit over the middle casing and allow the A/R Screen to expand and retract in length. All three casings contain rods holding tubes attached to clock springs for retract ability with the tubes having the actual screens wrapping around the tubes allowing the screens to extend and recoil.

The A/R Screen also has locking mechanisms to keep the screen in place when in use but also allows for the screen to be moved to another window setting if desired with ease by unlocking the locking mechanism and simply moving the screen to another window. The A/R Screen is designed to be produced at a low cost passing savings on to consumers helping to alleviate the problem of current high screen cost and repair cost.

It is capable of fitting into several different window settings throughout a residence ranging from several different widths and heights solving the problem of having to measure multiple windows for different fittings. It also eliminates the possible dangerous task of climbing ladders to replace or clean current outdoor window screens while and simultaneously reducing the possibility of damaging current metal and plastic screens.

The A/R Screen is easy to install, easy to clean if necessary, eliminates the accumulation of insect carcasses and the buildup of pollen, dust, dirt and other foreign debris that reside between current window screens and windows. At the same time depending upon the type of screen used; it will assist in block out a high percentage of the suns UV rays, unwanted living insects and allows fresh air to flow through a residential room helping to lower rising energy cost.
Join in and write your own page! It's easy to do. How? Simply click here to return to Invention Websites.