Aquarium Overflow Protection Matte
by Anthony Pustovarh
(Cool Ridge, WV, USA)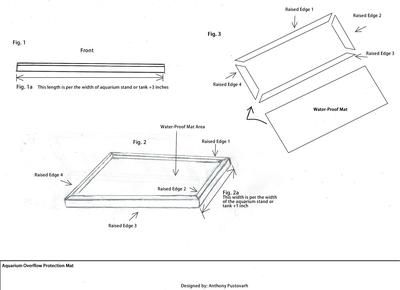 Aquarium Mat
The main purpose of the invention is to protect the flooring and surrounding area of the aquarium from water damage. The invention is designed to collect and contain water that has leaked or overflowed from the aquarium.


The mat is slightly larger than the aquarium base, ensuring that the water from the tank is contained. There are raised edges on all four sides giving added security that no water leaks from the mat.
The entire mat is comprised of a thin, water-proof layer of water-proof material that prevents any water leaking or draining. The mat doesn't damage the flooring underneath.
I have a working model in my house. I have a 200 Gallon aquarium that every now and then water will drip down the stand (from me or from a mechanical malfunction.) The laminate flooring that's below the protection matte is in 100% original condition.
This matte WORKS and I believe there will be a great market for protecting laminate, carpet, linoleum or any flooring. There are a lot of people who enjoy the beauty of aquariums but not many people want the beauty at the expense of their homes. Keep the water where it should be!
I am considering licensing or selling my invention. If licensed I am looking for complete manufacturing and distribution. My invention has not been previously sold or marketed. I have a working model in my house.